News
Feb 16 2011
Google's New Nav Bar

You may have noticed a pleasant change in Google's search user interface. The tab navigation has been updated with a fresh new look for Web and Images search. MouseWorksMedia played a small role by creating the settings gear for the options menu

. Read more here...
---
Jan 24 2011
Product Release: Google Weather Search


Google just released a new weather search results snippet. To try it out, go to google.com on your iPhone or Android-powered device and search for "weather".
I worked with Google Mobile UX Engineer, Nick Fey, and Software Engineer, Michael van Ouwerkerk, in developing the weather icons.
This was a really fun project for me. I got the opportunity to study the moon's surface as I drew the phases of the moon along with the other weather icons. The challenge with these icons was to make them look fairly realistic, but retain a somewhat playful and fanciful style that is part of Google's character. To see more of the weather icons go to our Mobile UI Portfolio and look for the Google Mobile Weather Search slide.
---
Jan 12 2011
Product Release: Google Places for iPhone


Google Places for the iPhone helps you find and rate places nearby your location. I worked with Google Mobile UX and software engineers on some of the visual design along with drawing the iPhone version of the application icon, based on Android's launcher icon. I can't take credit for the beautiful category icons done by Google's UI Designer, Sanjay Mavinkurve. They belong in a digital museum of art!
See more in our Mobile UI section.
---
Nov 15 2010
Google's Rate Places Widget


Google's Rate Places was the first Android widget I've worked on with Google Mobile UX designers and engineers. It is amazing how many hours went into the visual design alone. It was a team effort and the final design is the result of everyone's time and participation. See more in our Mobile UI section.

---
Oct 29 2010
Improved Icons in Gmail


Google's Mobile Gmail has some new and improved icons in the toolbars. Working with Peter Hong, a Senior Interaction Designer at Google, I polished existing icons and added some new toolbar icons.
Google has a simple, symbolic icon style for the toolbar icons that we strived to maintain for this series. See more in our Mobile UI section.
---
July 22 2010
CT UPA Design Slam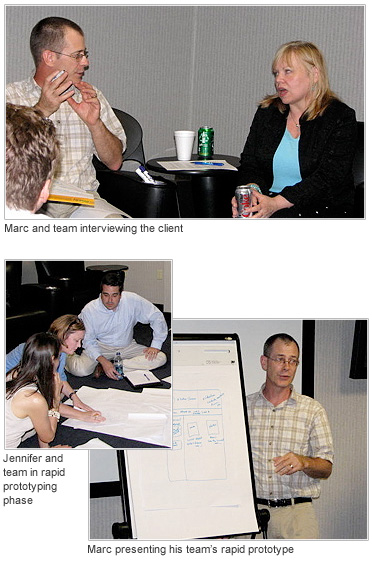 As members of the Connecticut based chapter of the Usability Professional's Association, Marc and I participated in a "Design Slam" during the chapter's July 2010 meeting.
Participants were divided into teams and introduced to a local Hartford not-for-profit organization that needed input from a design/UX team for the web presence and interactive product design. A representative from the not-for-profit was on hand to review the goals of the company, characteristics and drivers of the intended audience and the criteria for a successful design.
Teams had 45 minutes to come up with a suggestion/solution and prepare suitable deliverables. This was a great exercise and a fun way to get to know people. It was great seeing and hearing each team's solution and I think that some gems came out of the process. I hope some of the ideas are implemented and we can hear how this design exercise helped the client.